Websites have become a mainstay of the marketing high streets. They have gone from being messy pages of 90's mangled HTML, gifs and flash banners, to today's elegant, responsive layouts with high resolution photographs and ecommerce. I mean.. this is serious change: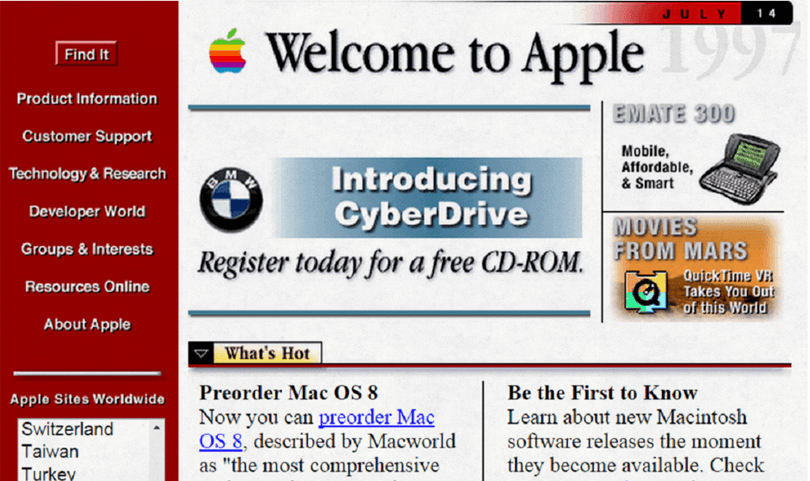 What if you could have an office that's open 24/7 to your consumer with avenues to answer questions, help with the sales decision process, and maybe even generate sales and collect payments securely? Well that's technically what corporate websites have become. Websites are now extensions of a business, the first place where consumers might look for you before speaking with someone. You wouldn't have your reception area smelling like rotten fish, so that virtual office should be in top shape if it's the first point of contact. This is where we come in… 
TILT doesn't just produce a website based solely on the latest design layouts… We actually look at how your current website is used, your sales process and we spend lots of time looking at how a user experiences your brand. Because we look at your website as an extension of your business, we make sure that your potential and existing consumers experience nothing but excellence. 
We do a couple of things a little differently from most agencies. We host and manage your website for you, and provide blogging services to ensure that your website is top notch. By TILT doing the whole package, it gives us the control to ensure that your site speeds are in line with industry standards, that every page on your website is optimised to make search engines happy, and blogs kept to the same standard as all our content to ensure brilliant continuity. 
At the end of the month, we'll send you a report detailing how well your website has behaved, interesting visitor data and more. Also, it's a relief to not have to wait on an external party to execute changes; because we do everything in-house and immediately. 
Ready to open a virtual office?
Book a consultation to find out how we can TILT your brand! 
Book a consultation with us